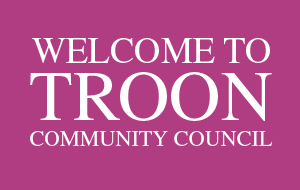 The Role of the Troon Community Council
Community Councils are voluntary bodies which exist within a statutory framework and which have been granted statutory rights of consultation. The general purpose of the Troon Community Council is to ascertain, co-ordinate and express the wider views of the entire community within its boundaries. Community Councils will seek to represent and include all sections of their communities, regardless of age, gender, ability, ethnic origin, political or religious beliefs, or sexual orientation. They can complement the role of the local authority but are not part of local government.
Troon Community Council is once again running this now famous competition in our town, during the school summer holidays. The competition was originally held for the children of the five primary schools in Troon. Following the success of last year's pilot scheme, Troon Community Council now open their "Find the Object Competition" to all primary school children in the country.
Entry forms:- Each of the pupils of the five primary schools in our town are given the form via their school. Additional forms are available from the Library in South Beach. The form can also be downloaded here. Find the Object Comp Summer 2022
What you have to do:- Each of the shops/businesses taking part will put something in their window that they wouldn't normally sell eg. a screwdriver in a hairdresser shop. Fill in that object beside the shops name on the form and move on to the next one. There is a small map on the back of the form to assist those the young folk from out of town.
Completed forms:- Put the completed forms through the letterbox of Waddell & Mackintosh in Ayr Street.
Prize winners:- In September the winners receive a £10 voucher which can be spent at any of the shops taking part. The voucher is valid until April 2023 to allow time for out of town winners to enjoy their prize.