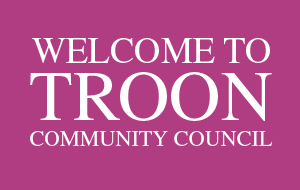 The Role of the Troon Community Council
Community Councils are voluntary bodies which exist within a statutory framework and which have been granted statutory rights of consultation. The general purpose of the Troon Community Council is to ascertain, co-ordinate and express the wider views of the entire community within its boundaries. Community Councils will seek to represent and include all sections of their communities, regardless of age, gender, ability, ethnic origin, political or religious beliefs, or sexual orientation. They can complement the role of the local authority but are not part of local government.
Thanks to the stellar efforts of teachers, support staff and services across the Council, our schools re-opened for pupils on a phased basis this week, and will return full time from Monday 17 August. I appreciate that young people have been away from the classroom for quite some time, and some may find it challenging to readjust to this, and the measures that have been put in place to ensure our schools are safe. If you are a parent or carer in South Ayrshire, and have any questions or concerns about your child's return to school, please contact your school in the first instance
The Education Secretary announced on Tuesday that all downgraded SQA exam results will be withdrawn, and qualifications will be based on teacher judgement. The SQA will inform schools of the revised results by Friday 21 August to allow schools to tell pupils. All young people affected by this will be issued with a replacement certificate from the SQA. You can read about this in more detail on the Scottish Government website.
I'm sure many of you will be aware that we are implementing Microsoft 365 across the organisation. Colleagues from ICT and Organisational Development are working closely with our implementation partner SWORD and, to help progress this roll out, we are now seeking Office 365 Digital Colleagues. To find out more about this great opportunity watch this short video. You can also access more information, or register your interest here.
The latest edition of SAC Live online magazine is available now. This month you'll find information on health and wellbeing; the latest update from our Trading Standards and Environmental Health team; and information on our services as we continue to emerge from lockdown. You can view the magazine here.
Our Culture team recently gave local young people the opportunity to take over their digital channels for the day to showcase their own 'mini museum' exhibitions. Budding exhibition guides provided some fantastic virtual tours which included a 'Radical Recycling Museum' and 'Museum of Curiosities'. You can view the work of one of our demonstrators of the future here.
Nominations are now open for the Robert Burns Humanitarian Award 2021. This annual honour is awarded to an individual, or group, that epitomises the humanitarian values of the Bard. More information, including how to nominate, is available on our website.
Saturday 15 August marks the 75th Anniversary of Victory over Japan Day (VJ Day). This gives us all an opportunity to remember those who served and sacrificed in the Far East during the Second World War. With celebratory events unable to take place due to COVID-19, this year we will commemorate VJ Day virtually across our social media channels Facebook, Twitter and Instagram throughout the day tomorrow.
Our Communications Survey is still open and we'd really like to hear from you about how we communicate Council news, messages and changes to service delivery. If you're a South Ayrshire resident I'd appreciate if you would take a few minutes to complete the short survey which is available here
As we've seen elsewhere in the county, this virus has not gone away. Therefore, it's extremely important that we all continue to follow the latest public health advice to help keep everyone safe.
Once again, let me extend my thanks and appreciation to all of you for your ongoing effort and dedication during this unsettling time.