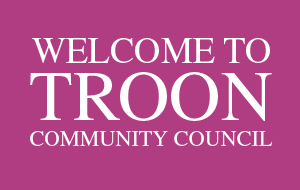 The Role of the Troon Community Council
Community Councils are voluntary bodies which exist within a statutory framework and which have been granted statutory rights of consultation. The general purpose of the Troon Community Council is to ascertain, co-ordinate and express the wider views of the entire community within its boundaries. Community Councils will seek to represent and include all sections of their communities, regardless of age, gender, ability, ethnic origin, political or religious beliefs, or sexual orientation. They can complement the role of the local authority but are not part of local government.
Following the First Minister's review of the COVID-19 regulations yesterday, we have been able to make further progress with our recovery plans
Our Property Maintenance team will resume routine repairs from Monday 3 August. Housing tenants can now follow the normal process for reporting issues with their homes, and more information about this can be found on our website
All public toilets across South Ayrshire have now re-opened. They remain free to access at the moment and will be open from 10.00am until 6.00pm Monday to Sunday, with the exception of Barassie, Girvan Harbour, Maybole and Arthur Street in Ayr which will be open 24 hrs. In order to ensure physical distancing, it has been necessary to limit the number of cubicles and sinks available for use in some of our facilities. Regular enhanced cleaning will be in place at each facility throughout the day. You can find more information about our public convenienceshere
Our Economic Development team launched the 11th issue of their 'Business Beat' e-magazine this week which was created in partnership with our Trading Standards and Environmental Health team. This issue contains information on current guidance and compliance measures for local businesses and is available to read here. Please share the link with anyone you think may find it beneficial.
Over the last few months, we have been working to support people who have been financially affected by the COVID-19 pandemic. Our Information and Advice team has remained on hand to offer free, impartial and confidential advice over the phone. The skilled advisors have helped residents to maximise their income; check they have applied for the right benefits; appeal DWP benefit decisions; and find debt solutions. The team can be contacted on 0300 123 0900 or at informationandadvicehub@south-ayrshire.gov.uk. Information on benefits and welfare advice can also be found on our website
Throughout the crisis, our Employability and Skills team has offered practical advice to residents on how to get a new job and identify new learning opportunities. If you know anyone who is worried about redundancy, please let them know that we are here to help them. Our friendly officers are available on 0300 123 0900 or at employability.skills@south-ayrshire.gov.uk
Kevin Stewart MSP has written an open letter to social housing tenants. The letter includes a range of information and advice for individuals and families in Scotland as we move through the different phases of easing restrictions. The letter has been publicised to our housing tenants and can be viewed here
Due to the continuing low levels of COVID-19 infection in Scotland, residents who have been shielding will no longer have to do so from Saturday 1 August. Those affected will receive a letter from the Chief Medical Officer outlining the updated guidance and details about the pause in shielding. A SMS Shielding Service has been set up for the latest updates about shielding, which you can join by sending a text to 0786 006 4525. The Scottish Government is also developing a COVID-19 forecasting service for shielding. This will allow people who have been shielding to sign up to an SMS update that tells them about their risk of being exposed to COVID-19 in their local area. You can read the latest shielding guidance here
The Scottish Government has issued updated guidance on Test and Protect. The guidance states that in order to self-isolate safely and effectively under Test and Protect, in exceptional circumstances, a person may be advised to separate from the rest of their household. You can read more about this via this link
NHS Ayshire and Arran are looking for feedback on proposed content for a new mobile app which will offer local and national information on Autism, ADHD, FASD and Learning Disability for individuals, families, carers and professionals. You can access the survey here , it only takes a few minutes to complete and will remain open until Friday 31 July
As hospital outpatient services and visits resume, NHS Ayrshire and Arran have put together some short videos which explain what we should expect if we attend hospital for either visiting or an appointment. Information for outpatients can be viewed here and you can also watch the short video on visits here. Full details around visiting people in hospital can be found on the NHS website
With everyone spending more time at home over the last few months, many people have seen their energy bills increase. Home Energy Scotland are supporting vulnerable households to keep warm and help people manage their energy bills by offering free and impartial energy saving advice. If you'd like to find out more you can visit their website or call an advisor on 0808 808 2282
Things are still changing quickly at the moment, so I'd encourage you to continue to keep yourselves informed by checking the website regularly. Remember you can also follow us on Facebook, Twitter and Instagram, where you'll find updates about our services