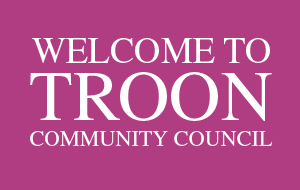 The Role of the Troon Community Council
Community Councils are voluntary bodies which exist within a statutory framework and which have been granted statutory rights of consultation. The general purpose of the Troon Community Council is to ascertain, co-ordinate and express the wider views of the entire community within its boundaries. Community Councils will seek to represent and include all sections of their communities, regardless of age, gender, ability, ethnic origin, political or religious beliefs, or sexual orientation. They can complement the role of the local authority but are not part of local government.
The Scottish Government announced earlier this week that South Ayrshire will move to Level 3 of its Local Protection Levels from 6.00 pm today. This is good news as it means we are clearly taking the right action in our communities to suppress the spread of the virus. The move to Level 3 will see some changes to our services:

Our Sport and Leisure facilities will re-open on Saturday 12 December and gym and swim bookings are now live

From Monday 14 December, our libraries will begin to offer their Connect and Collect service and book returns in all branches. To support our customers, there will be no late fees charged for any borrowed items until further notice, and our free e-reader offer of newspapers, books and magazines can still be accessed.

Museums and galleries, including Rozelle House, The Maclaurin Art Gallery and the Grain Exchange will re-open on Saturday 12 December. The McKechnie Institute will re-open on Tuesday 15 December.

Golf retail premises at Belleisle Park and Troon Links re-opened from 9.00 am today. Golf Clubhouse toilet facilities at Belleisle Park and Troon Links will re-open from 8.00 am tomorrow (Saturday 12 December). The Stables café will also re-open tomorrow with their normal winter opening hours of 10.00 am to 3.00 pm. Members' guests will also be reintroduced at all locations tomorrow (guests must be South Ayrshire residents)

Information and updates on our services and current public health guidance is available on our social media channels, The Core and the website. I'd appreciate if you would continue to help us spread the word and keep everyone informed by sharing the links to our Facebook, Twitter and Instagram accounts with your friends and family

Please remember that, although we have moved to Level 3, travel restrictions remain the same, and you should not travel outwith your local authority area. You can read more about Level 3 guidance and what this means for you and your families on the Scottish Government website

It was also confirmed by the Education Secretary, John Swinney, that the 2021 Higher and Advanced Higher exams will be replaced by awards based on teacher judgement of individual pupil attainment. I know that this year has been extremely challenging for pupils and, as has been the case throughout this pandemic, our fantastic teaching and school staff will be there to ensure our young people are well supported and achieve their full potential. We are now awaiting further guidance from the SQA and, if you are a parent or carer in South Ayrshire, schools will keep you and pupils updated.

We've got some good news for children and young people who are entitled to free school meals. Thanks to additional funding from the Scottish Government, parents and carers of eligible school age children will receive a one off payment of £30.00 per child into their bank accounts on Tuesday 22 December. This will cover the period from Wednesday 23 December 2020 to Tuesday 5 January 2021.

The Scottish Government has also announced funding to help people pay for food, heating, warm clothing and shelter during the winter. The £100m winter support package will help those on low incomes, children and people at risk of homelessness or social isolation cope with winter weather and the economic impact of coronavirus (COVID-19) and Brexit.

We are hoping to make life a bit easier for residents with the launch of our new bins and recycling app 'SAC MyBins' on Monday 14 December. From reporting missed bins to booking special uplifts, the app will allow you to organise all of your household waste needs on the go. The free to use app, which was designed with Albion Environmental Ltd, includes features such as – personalised collection calendars; advice, tips and information on recycling; and access to online forms to report problems. The bin calendar function will let you see at a glance which bin is due for collection. So there will be no more relying on your neighbours to put their bins out first! You can even use the app to set up collection day reminders on your phone or tablet. Another great benefit of the app is the facility to contact the Council about waste collection services, such as special uplifts, direct from the app. There will also be a function which allows you to access the latest Council news and service alerts. You'll find SAC MyBins on the app store on most mobile Apple and Android devices from Monday 14 December

The Employee Deal outlines our commitment to you, and our expectations of you in return. To help embed the Deal and plan for recovery, we want to hear your views on how COVID-19 has affected the way you work. A short survey for all staff has been developed which focuses on three areas: Wellbeing, Communication, and Homeworking. The survey will help us understand what impact COVID-19 may have on your health and wellbeing; develop an understanding of how we can maintain effective contact with you; and understand how changes to the way we work has affected you. The survey is available on The Core, and I'd appreciate if you would actively promote the survey across your teams. The survey is completely anonymous (you will only be asked to select your Service Lead and area) and is open until Friday 15 January. If you need any further information, please contact James.Andrew@south-ayrshire.gov.uk

Our Budget Consultation Survey launched online earlier this week and we'd like to hear what you think. For example, should we look at raising or introducing fees for some services? Or change the way we deliver services, such as having fewer face to face services, or stop delivering some services altogether? This is your opportunity to get involved – the survey is available now and will be open until Friday 15 January 2021.

Each year, managers, team leaders and supervisors are required to calculate their own employees' annual leave entitlement. A useful guide is now available on The Core to help you with the calculations. The public holidays for 2021 are also available to assist with this exercise. The guide also provides information on how to add entitlement to your employee records; carry forward any unused days from 2020; and add Enhanced Leave days. Due to the impact of COVID-19, there are changes to carrying forward annual leave. Details about this can also be found on The Core. If you have any queries that are not covered in the guide please email flexiusersupport@south-ayrshire.gov.uk

I am sure many of you will be aware that we are in the process of implementing Microsoft Office 365. M365 will bring a whole new suite of applications which will enhance the way we communicate and operate; one being Microsoft Teams. Access to Microsoft Teams has now been granted for staff who have Windows 10 and have been allocated the relevant M365 licence. Due to the number of requests from services to be able to use Teams for meetings and calls, we have decided to give access to this earlier than expected. Teams is a collaborative workspace, and there will be many more new functions rolled out over the coming months; however, at the moment, we have to limit this to Teams meetings only.

Our ICT team has worked really hard throughout the pandemic to keep us connected, and make it possible for more of us to carry out our work from home. At the moment, ICT support is provided from the office at McCalls Avenue, Ayr, however, this is strictly by appointment and for exceptional circumstances only. To ensure the safety of all staff, access to the building is not permitted without an appointment. In line with previous years, we will provide a reduced ICT support service for those of you who will be working over the festive period between Tuesday 29 and Thursday 31 December. If you have any issues or problems, please contact the ICT Service Desk at ict.servicedesk@south-ayrshire.gov.uk, or by calling 01292 612406

The winter edition of SAC Live Magazine is available on line. This edition features information on our budget consultation, Primary One photographs and tips on staying active during winter from our Health and Wellbeing team. We're switching to quarterly editions of the magazine, which will now be available both online and in hard copy

Our Trading Standards and Environmental Health team works tirelessly to ensure we are all kept safe, even more so throughout the COVID-19 pandemic. I'm delighted to tell you that the team has been recognised for its efforts in this year's APSE awards as finalists in the Best Service Team: Environmental Health, Trading Standards and Regulatory Service category. This nomination highlights the work the team has been doing during the pandemic to ensure businesses and organisations are operating safely

Today is National Christmas Jumper Day which we normally use as an opportunity to sport our best festive attire to raise funds for our employee charity partner. Due to Council buildings being closed, we are unable to provide traditional donation buckets, however, I know that some of you may still wish to make a donation to Ayrshire Cancer Support. You can find out more about the charity and how to donate on their website. The charity is also working to relieve the isolation and uncertainty felt by so many people affected by cancer, and face a lonely and anxious Christmas.

Finally this week, staff and pupils at Forehill Primary School have written and recorded a wonderful, uplifting song which promotes a message of love and hope in the run up to Christmas. The song, which was written by Principal Teacher, Lee McDowall, is called 'Let Love In'. One special video version of the song even includes children performing the song using Makaton sign language. The school has released the song on a number of digital platforms and plan to make it available on CD early next week, with funds raised from this being donated to the Ayrshire Hospice. There's no miss or maybe – it's definitely a hit from me! I'm sure you'll join me in congratulating the whole school for its efforts. or its efforts.