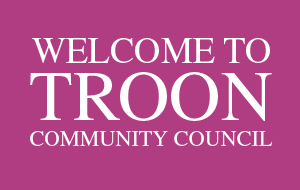 The Role of the Troon Community Council
Community Councils are voluntary bodies which exist within a statutory framework and which have been granted statutory rights of consultation. The general purpose of the Troon Community Council is to ascertain, co-ordinate and express the wider views of the entire community within its boundaries. Community Councils will seek to represent and include all sections of their communities, regardless of age, gender, ability, ethnic origin, political or religious beliefs, or sexual orientation. They can complement the role of the local authority but are not part of local government.
Update from Chief Executive SAC
I'm delighted to be able to tell you that, earlier this week, Councillors approved a programme of activity to help support South Ayrshire communities to recover from the COVID-19 pandemic and provide a boost to the local economy. An initial allocation of £5.852 million has been ear-marked to support and develop activities and projects which will make a real difference to our communities.
I'd like to extend my congratulations to two of our services that were recognised by APSE (Association for Public Service Excellence) at their APSE Performance Network Awards ceremony for 2021, which took place last week. Our Property Maintenance team won the Most Improved Performer Award in Building Maintenance, while Ayrshire Roads Alliance (ARA) scooped the Most Improved Performer Award for Street Lighting. You can find out more about the awards on the APSE website
With cases of the coronavirus on the rise locally, I'd urge you to make sure you take the vaccine when you're offered it. You can read about the vaccine and the protection it provides on the NHS Inform website
If you received your first dose of the Pfizer BioNTech or Oxford/ Astrazeneca vaccine on or before 22 March 2021 and haven't had your second dose yet, NHS Ayrshire and Arran are encouraging you to attend one of the local drop-in clinics over the next few days to ensure the best protection against the virus. The clinics are available today and tomorrow (Friday 18 June and Saturday 19 June) from 8.30 am to 7.30 pm at the following locations:
· Galleon Centre, Kilmarnock;
· John Pollock Centre, Ayr; and
· Ardrossan Civic Centre
and on Sunday 20 June from 8.30 am to 7.30 pm:
· Cumnock Town Hall
· Greenwood Conference Centre, Dreghorn
You can find out more information at https://www.nhsinform.scot/covid19vaccine or by calling the COVID-19 vaccination helpline on 0800 030 8013
Even if you don't have coronavirus symptoms, it's good practice to get tested regularly to help stop the 'silent spread'. The COVID-19 Asymptomatic Test Site will move to Troon from Monday 21 June until Sunday 27 June. You don't need to make an appointment to be tested at this site – you can go along any time during opening hours (10.00 am to 6.00 pm daily). Full details are available on our website. This site is only for people without symptoms. If you do have COVID-19 symptoms, you should book a test in the usual way via www.nhsinform.scot or by calling 0800 028 2816
Thanks to all of you who took time to complete our new leisure centre consultation. The survey had 2,600 responses and over 5,000 individual comments and suggestions, which we'll now review and analyse. We'll be able to bring you more information about the results later in the summer
Police Scotland recently asked for public views on armed police officers using body worn video (BWV) cameras to record certain incidents. Almost 9,000 people took part in the survey and the majority thought the use of BWV cameras would increase trust and confidence in the police and make them feel safer. This positive response means that Police Scotland intend to proceed with plans to equip their armed police officers with body worn video cameras this year. They are also considering giving these cameras to more police officers and staff in other roles across Scotland to help to provide additional transparency and accountability when police officers and staff are dealing with incidents and carrying out their duties. BWV cameras are also a vital tool in increasing officer safety and helping to secure convictions against those who choose to carry out rising attacks on members of Police Scotland. With this in mind, Police Scotland have launched a national 12-week public consultation on providing BWV cameras to more police officers and staff across Scotland. The results will be used to inform and shape Police Scotland guidance, and training for police officers. You can access the survey here
I'd like to draw your attention to the letter from Tom Arthur MSP, Minister for Public Finance, Planning and Community Wealth, regarding the New Year's Day Trading Consultation. The consultation is now open and seeks the views of retail employees and businesses; local authorities; trades unions; business organisations and others on the possible introduction of legislation to close large retail stores on 1 January.
The Queen's Green Canopy (QGC) is a tree planting initiative created to mark her Platinum Jubilee in 2022. The initiative invites people from across the United Kingdom to 'Plant a Tree for the Jubilee'. Everyone from individuals to groups; villages; towns and cities; local authorities; schools; and corporates is encouraged to take part and help to enhance our environment by planting trees from this October, when the tree planting season begins, until the end of the Jubilee year in 2022.
Every day voluntary groups deliver a wide range of services across South Ayrshire. The Queen's Award for Voluntary Service is a fantastic opportunity to thank and recognise these heroes of our communities. If you know a volunteering group who has made a difference in your area, why not nominate them for an award? Nominations can be submitted between April and September each year and you'll find further information on The Lieutenancy of Ayrshire and Arran website. Nomination forms and guidance notes are available on The Queens Award for Voluntary Service website
Regards Eileen
Eileen Howat| Chief Executive | eileen.howat@south-ayrshire.gov.uk | Direct Line: 01292 612612 |
South Ayrshire Council | County Buildings | Wellington Square | Ayr | KA7 1DR | www.south-ayrshire.gov.uk
Eileen Howat | Ceannard | Taic Stiùiridh CE | Prìomh Roinn Togalaichean Siorrachd | Eileen.Howat@south-ayrshire.gov.uk
Tel: 01292 612612 | www.south-ayrshire.gov.uk