NEWS
17th June 2020
Glasgow Taxi Outing. 
What a disappointment for all the kids who would have had a fantastic day out in Troon. This was to be the 75th trip of the Glasgow Taxi's Outing to our great wee town with the big heart! With so many things cancelled  due to the Coronavirus, it didn't take place and all the planning of the folk who organise the GTOF event has had to be put on hold. However the day was marked by a virtual message from some of the Troon Community Council who met on the Council steps (physical distancing), to send greetings to the young people via an online presence. We hope to welcome the Glasgow Taxis  next year to their actual 75th anniversary. Look forward to having you and your precious young folk back with us in 2021! You can look up their website:-info@gtof.org.uk
Date 28/5/2020
Lockdown to Troon! Glasgow Taxi Outing Fund promise city's children a unique day of fun and entertainment
-"If the children can't go to Troon, we'll bring the fun of Troon to the children"-
A media statement has been released by the Glasgow Taxi Outing Fund in the light of the cancellation of the 75th outing to Troon. It can be viewed here.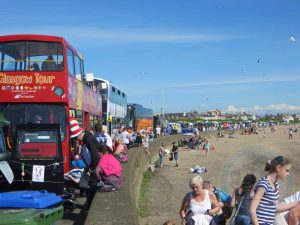 Date  06/May/2020
Status  For immediate release
South Ayrshire Council praised by Scottish Government for free school meal boxes
Thanks to the commitment of employee volunteers, South Ayrshire Council continues to deliver food to young people who are eligible for free school meals during the coronavirus (COVID-9) outbreak.
Daily deliveries of lunch bags have been replaced by a weekly food box, providing enough food to make breakfast and lunch for a young person for a week. The contents of the boxes vary from week to week, depending on stock availability, but usually contain bread; milk; cereal; fresh fruit; and ingredients to make soup. To date, over 11,000 food boxes have been delivered to eligible children across South Ayrshire.
The Scottish Government has praised the approach, particularly with reference to the content of the boxes.
There are currently seven production kitchens operating in schools across South Ayrshire, where boxes are packed by catering staff, and delivered by a team of volunteer drivers on Tuesdays, Wednesdays and Thursdays.
Last week, dental packs and sanitary products were provided in each box. South Ayrshire Council's Active Schools Team provided an activity diary for families, alongside information from Better Health Hubs from our Health Improvement Team.
For the latest information on South Ayrshire Council services, please visit ourwebsite.
---
Message from Eileen Howatt 1st May 2020:
"We are now into week six of the lockdown period and I am pleased to tell you that, thanks to the ongoing hard work of our employees, we are still delivering critical services to our communities without any issue.
The Scottish Government has praised our approach to delivering weekly food boxes to children and young people who are eligible for free school meals. They are particularly impressed with the content of the boxes, which now include information on a range of activities developed by our Active Schools Team, and are keen to promote the approach taken in South Ayrshire as good practice.
Our teams are also linking in with foster carers across South Ayrshire who are doing a fantastic job, providing much needed support to some of our most vulnerable young people.
Our Human Resources Team have been working with the Health and Social Care Partnership (HSCP) to identify 70 employee volunteers who are able to perform care roles in the event that additional resource is needed. These employee volunteers will undergo training to allow them to be redeployed if the need arises.
It's been heartening to see some great feedback from our residents about the services we're providing throughout this crisis.  One local couple expressed their gratitude for all of the assistance they have received from us so far, including weekly food parcels and prescription collections, telling us that they have received all of the help and support they could possibly want.
Tuesday 28 April was International Workers' Memorial Day, where we showed our support to those who have been affected by losing a loved one at work, or have experienced a work related illness or injury.  We planned to mark the day by planting a tree at Rozelle. However, as this wasn't possible, we instead planted avirtual treefor every family in South Ayrshire who have lost a loved one through work, and for all of our key essential workers who are delivering critical services throughout this pandemic.
This week has also seen some of our sheltered housing residents showcase their musical talents on TV.  Residents at St. Meddans Court and Panrock/ Milrock Court in Troon took part in a video showing their support for the NHS which was aired on BBC Scotland's 'The Nine' earlier this week.
Cash For Kids have granted £19,740to a range of projects providing support to 564 children in South Ayrshire including: South Ayrshire Autistic Society;  Unity Grill; The 1010 Trust; South Ayrshire Carers' Centre; and South Ayrshire Women's Aid. They are continuing to work to secure further funding, which will be available for families who need support during the crisis.
I'm aware that there has been some confusion over the re-opening of recycling centres.  While the UK Government has asked local authorities in England to open their recycling centres, as it stands at the moment, all recycling centres across Local Authorities in Scotland will remain closed.   In Scotland, travel to a household waste recycling centre is not currently classed as an essential journey, and closures are likely to remain in place until the travel advice changes".
---
Dates for your diary